There are 10 funded projects from the EATF Tranche 2 WECA bid that relate to BaNES. Sadly none outside of the city. There are 4 that contain LTN elements (*) and 4 pedestrian/cycle zones (**). Of the other two the Upper Bristol Road one will be the hardest politically, closely followed by the North Road scheme. UBR appears to be the *only* one to attempting to remove car storage on a major road.
Liveable Neighbourhoods Strategy
Use of Experimental Traffic Regulation Orders is rampant throughout the proposals. The implication of this is that scheme implementation will follow the framework where deemed necessary. In other words if a point closures is required then the council will follow this process which is inline with the governments requirement for local community consultation.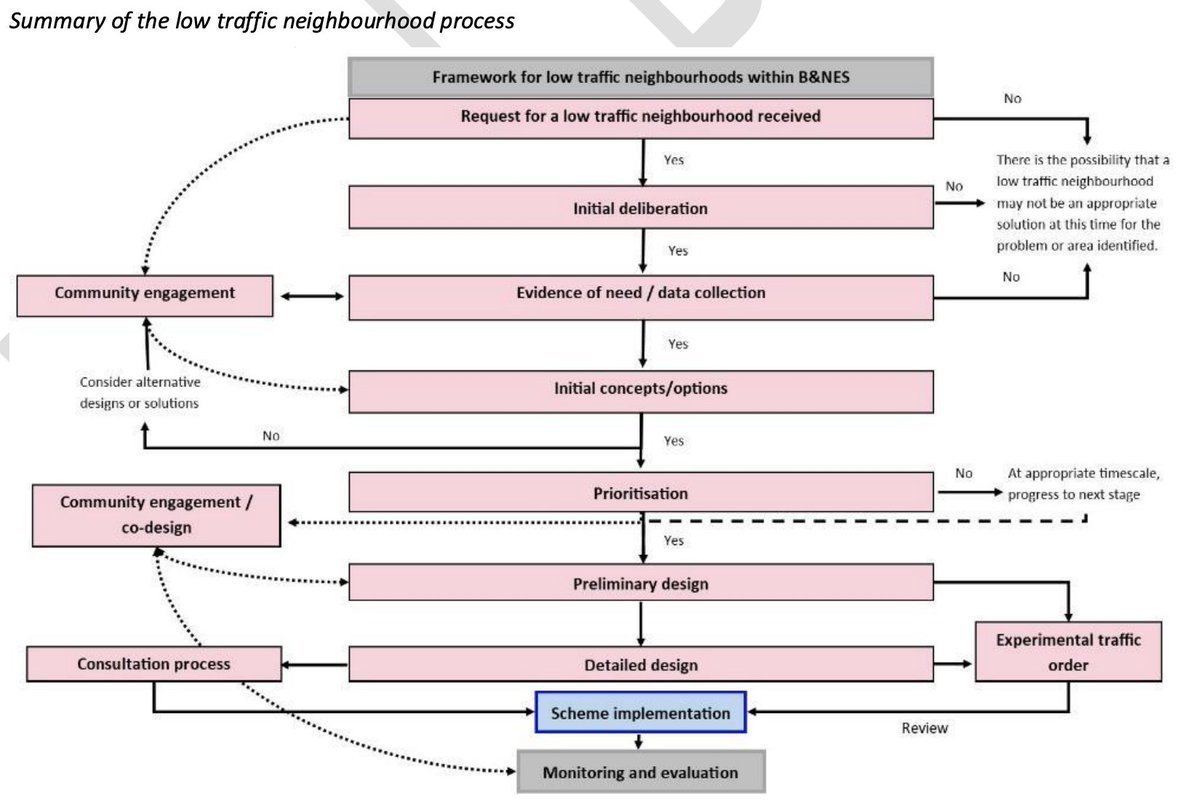 A4 Upper Bristol Road segregated cycle lane between Park Lane and Charlotte Street
First phase of new cycle route along Upper Bristol Road using light segregation, linking into new Toucan crossing being installed September 2020 which provides short link to NCN4. Requires removal of 28 on-street parking spaces.
This pretty much feels like the weakest scheme, but given that WECA's Local Cycling Walking Infrastructure Plan puts the majority of the proposed routes along the isolated dark river path with massive social safety issues, this begins to fix that critical section to make all proposed LCWIP routes actually viable. It might look odd but the the river path cannot be part of a key strategic cycle network. It is simply not safe enough. Of note many of these parking spaces are short stay spaces and used to access the park so politically might not be too difficult.
Bath city centre to University of Bath cycle & e-scooter route*
Provision of largely traffic-free route on North Road by introducing trial point closures (bus gates enforced by ANPR) – Experimental TRO required; a new 90m off-road segregated cycle path on a closed section of The Avenue (with new automatic cycle counter); new off-road cycle link between North Road and The Avenue; new segregated eastbound cycle lane on A36 Beckford Road.
This will need to go through the Liveable Neighbourhoods Process with local community consultation. Strategically this makes an immense amount of sense given that there is no comfortable safe cycling route to the University and North Road is the most comfortable climb.
We have a reduced capacity on our buses and the provision of a good traffic free/light route to the University from the city centre is needed. This also facilitates a future School Street at King Edward's School. Something that would directly reduce traffic on our roads. Couple this with eScooters and maybe a University eBike loan scheme and you have yourself a mass transit route easily able to get 15,000 students up the hill daily.
Entry Hill south of j/w Entry Hill Park*
Point closures of Entry Hill. Provides new low traffic route from south of city towards city centre including access to Beechencliff Secondary School. Experimental TRO required.
Entry Hill is a horrendous cut through and generates through traffic on Hawthorn Grove and Southstoke Road. There has already been a lot of community engagement and this will provide a smooth migration to the LN Framework. However expect to see something like this:
[Edit] Note this helps deliver one of the biggest solutions for the southern plateaux of Bath. The Scholar's Way. I know Greenway Lane Residents Association have been discussing how they can get a Liveable Neighbourhood and if successful would create a fantastic walking/cycling route from the south into the city centre.
Improving cycle links to Royal United Hospital and new contraflow cycling facility on Locksbrook Road.*
2 no. point closures and provide contraflow cycling facility along 450m section of Locksbrook Road. Experimental TRO required.
This one surprised me but having worked at Love Honey makes a huge amount of sense. That whole road is a complete mess due to the number of trucks that drive down there at all times of the day and night. Removing that commercial traffic will be good for this narrow terraced road.
I will need to revisit the Locksbrook Greenway should this go in as it creates a better on-road route from the B2B towards the city centre.
Bath city centre to Lansdown cycle route on quiet streets*
Several point closures between Gay Street and Sion Hill area to remove through-traffic and provide an area of quiet streets from the city centre to Lansdown and Bath School of Art campus. Experimental TRO required.
CARA Residents association has been working with local councillors for sometime developing a Low Traffic Neighbourhood and this process can continue under the LN framework. The corner of George Street and Gay Street is a hugely problematic space to cross over and a major walking route for locals and tourists.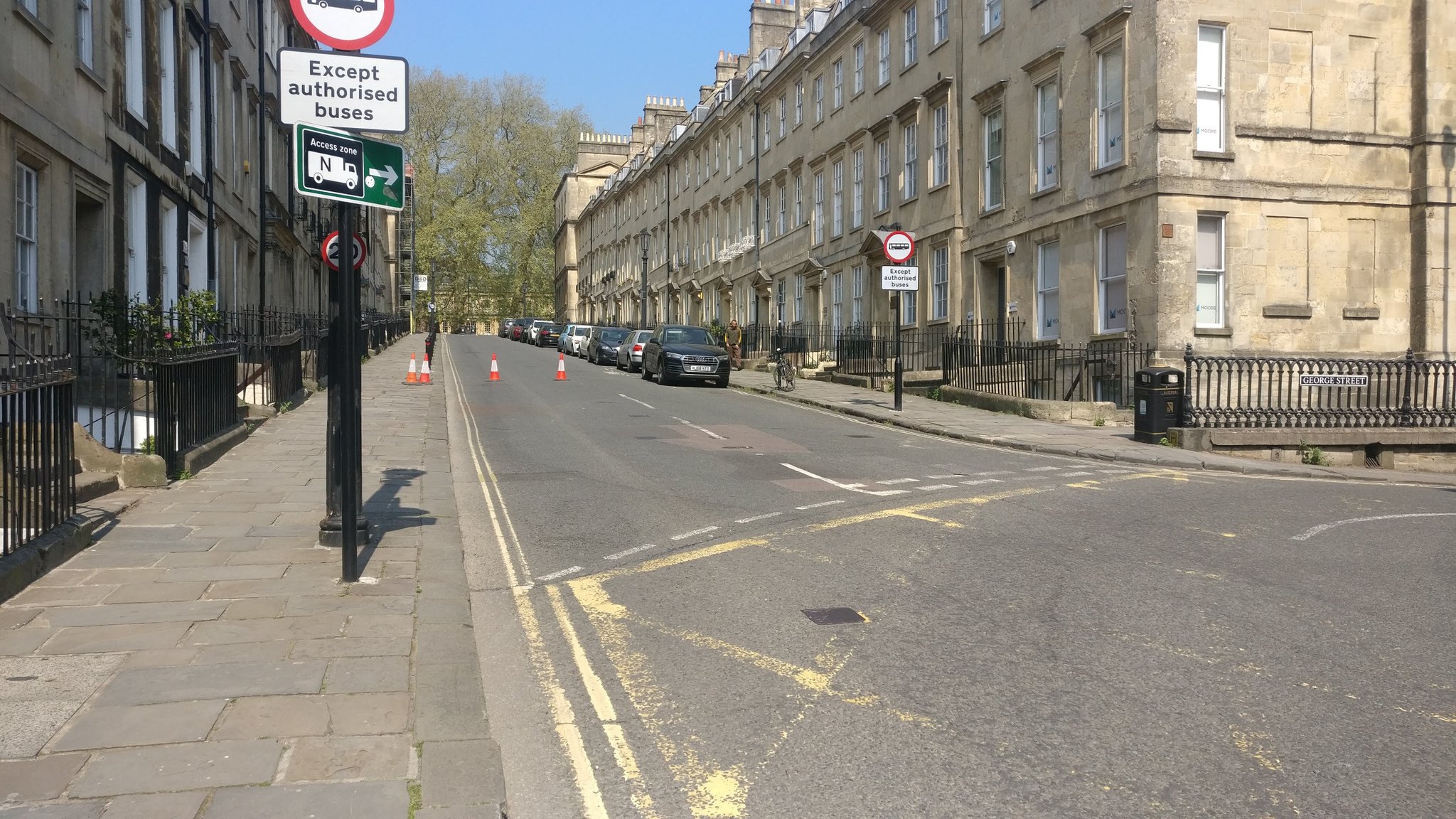 Long term their should be some public realm improvements marking the start of this Liveable Neighbourhood. A blended crossing here or even a parklet would be perfect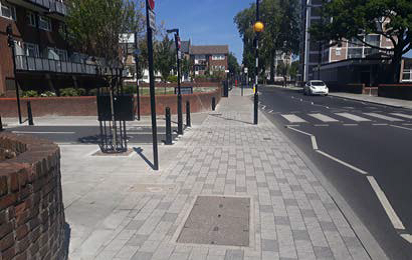 Improve access to Bath Spa University for cyclists & pedestrians from Bath (A4/A36 Twerton Fork junction & A4/A39/Pennyquick junction)
Provision of dedicated off -road cycle path to enable A36 connection to A4, which is currently missing. Widening of existing off-road cycle path link. Lane reduction at Pennyquick to facilitate improved cycle crossing.
When they installed the hand laid(!!!!) asphalt cycle path and the crossing on the Bath side the council *really* messed up. It is seriously lumpy and just unpleasant to ride on.
The crossing lights take up to 5 minutes to change (if I recall correctly). Once you cross over, you then have to cross *again* with no controlled crossing across the very busy Pennyquick. More disappointing was the complete lack of thinking around connecting Newton St Loe to Bath. The footpath up to NSL could be widened and made into an inclusive accessible 2.5m wide shared path tackling car dependency.
It's a ridiculous situation and this should make it better but the link to NSL is vital and should be part of this scheme if there is spare money.
Cite Centre Cycling Zones
For those that have used these they have been utterly transformative.
Cheap Street / Westgate Street / Saw Close/ Upper Borough Walls, Bath**
Implement 10am – 6pm Pedestrian & Cycle Zone vehicle access restrictions and parking restrictions to support cycling trips to and through city centre, reduce car based travel and enable social distancing to be maintained in the city centre. Parking/loading suspension and emergency TRO required.
Working really well and wanted for many years however the installed temporary gate at the end of Upper Borough Walls needs to be a rising bollard or something. The council are forcing cyclists into the pavement space. I hope the permanent solution solves this.
York Street, Bath**
Implement 10am – 6pm Pedestrian & Cycle Zone vehicle access restrictions and parking restrictions to support cycling trips to and through city centre, reduce car based travel and to enable social distancing to be maintained in the city centre. Parking/loading suspension and emergency TRO required.
Milsom Street, Bath**
Implement 10am – 6pm Pedestrian & Cycle Zone (except local buses) vehicle access restrictions and parking restrictions to support cycling trips to and through city centre, reduce car based travel and to enable social distancing to be maintained in the city centre. Parking/loading suspension and emergency TRO required.
Bus gate is now installed and working well. Ideally if Broad Street became two way for buses with P&R drop off at the Hilton Hotel, then Milsom Street could be closed 10am-6pm and become a fantastic Streatery really helping Milsom Street's hospitality businesses and bringing a huge amount of footfall into this space. It is a shame the council could not make this leap right now. Instead we have a halfway house with regular buses and the odd car coming down Milsom Street.
The council needs to be brave here and close it permanently to vehicles 10am-6pm, move the P&R drop off to the Hilton (making Broad St two way for buses), and fill the spaces with parklet eateries and market stalls.
Kingsmead Square, Bath**
Implement 10am – 6pm Pedestrian & Cycle Zone vehicle access restrictions and parking restrictions to support cycling trips to and through city centre, reduce car based travel and to enable social distancing to be maintained in the city centre. Parking/loading suspension and experimental TRO required. Additional cycle parking and parkilets in suspended parking bays.
Honestly those parklets are a thing of beauty and during this lockdown have provided outside space to take your takeout from the local cafés and restaurants. I know the Grapes are looking to have one on Westgate Street.
I still think the main issue with Seven Dials is the immense amount of through traffic using Westgate Buildings and Monmouth Street. The simplest solution is to close off access from Corn Street to St James Parade, make Avon Street two way for buses using a bus gate, making Green Park Road the main route for through traffic. The Liveable Neighbourhoods Framework will enable Kingsmead Ward residents to work with their local council to achieve this.
CONCLUSION
The EATF Tranche 2 funds provide the funding to deliver strategic changes to our road network that support the mass movement of students to and from Universities using eScooters/eBikes/cycles which directly address the low capacity of our buses.
The funding also provides the opportunity to see the Liveable Neighbourhoods Framework in action placing communities at the heart of the decision making process. In the letter that accompanied the announcement of the funding, Grant Shapps made the following statements.
Survey reveals 8 out of 10 people support measures to reduce road traffic and two-thirds support reallocating road space for active travel.
funding allocated alongside strict plans set out by the Transport Secretary to ensure councils consult local communities
19% of people oppose LTNs, 52% support them and 25% are neutral. Surveys are also being conducted of residents in individual LTNs where roads have been closed. The first of these, in south London, found 56% wanted to keep the scheme, against 38% who wanted to remove it.
Chris Boardman writing in the Guardian "For our children's sake, let's rid Britain's residential streets of traffic"
During the consultation phase, 44% of residents objected. The councillor (Clyde Loakes) received several death threats and was presented with a coffin to symbolise the pending demise of the local high street…Five years on, only 1.7% of residents want to see the traffic return.
Dear councillors,
That 19% of Bath residents will be extremely vocal, but you were all voted in on a manifesto promise to deliver Low Traffic Neighbourhoods. The electoral mandate is there. The money is there. Setting up 6 month trials of schemes can be done through the Liveable Neighbourhoods Framework and the use of Experimental Traffic Orders. This is your opportunity to deliver on climate action, public health, and social justice creating a city that enables everyone whatever their age or disability to easily walk, wheel, cycle, while tackling car dependency, but not stopping those that need to, from using their car.
RESILIENT COMMUNITIES
For many years Local Authorities have been touting 'smart' communities and particularly 'smart' cities. The smartphone provides drivers with perfect information and this has resulted in our residential streets becoming convenient rat runs and hostile spaces. Where previously kids played for decades in our streets, we now have those same kids all grown up and demanding they can drive there at any speed they like.
COVID 19 has shown that we need resilient communities where children can play in our residential streets again. Where traffic is kept to main roads and those main roads use Clean Air Zones, Parking Policy, School Streets, Public Transport, and behaviour change to tackle car dependency. Over 43% of car journeys in Bath are under 2 miles. You want climate justice. You want healthy streets. You want our roads to work for all ages and abilities where a parent is *enabled* to send their kid to school on a bike on their own? Then get behind this.
Over to you!
The Liveable Neighbourhoods Framework provides the mechanism through which you can organise your community and get your own Liveable Neighbourhood but it is *YOU* that needs to do this. Contact your local ward councillor and get like minded people organised.
Oh one last thing…I think the Liveable Neighbourhoods Framework really doesn't make it very clear how important YOU are to all of this. So I fixed it (yellow). It all starts with you emailing your ward councillor.
December 10th the Liveable Neighbourhoods Strategy goes to the cabinet. After that it's all over to you. Good luck!