BaNES have announced the consultation on their strategy for delivering Liveable Neighbourhoods and are asking for your feedback on the approach they are taking:
The strategy documents cover Low Traffic Neighbourhoods (including school streets), Resident Parking Schemes, and Electric Vehicle Charging. In combination with the Clean Air Zone this is a complete systems approach that enables walking & cycling, prioritises buses, tackles parasitic commuter parking in residential areas, and enables urban residents to switch to electric cars.
The Proposed Process
Roadmap
Using public feedback, we'll develop a framework for liveable neighbourhoods (LNs) to help identify suitable areas and guide detailed development.

Get Involved: You'll be able to request a liveable neighbourhood by outlining the issues that need addressed and the level of support in your area.

Initial review and data collection
We'll consider applications against the framework and available data. Where LNs are not immediately suitable, we'll seek other solutions. We may collect more data to provide a baseline for monitoring e.g. traffic counts, air quality data, parking surveys and accident data
Design options (co-design???)
We'll consider what designs and initiatives are capable of addressing each area's issues. Data can help us identify traffic displacement issues, trade-offs, timescales and costs.

Get involved: You'll be invited to review the design options with our planning team.

Shortlist
A final shortlist of LNs will be prepared, taking into account costs, other policies, timeframes and public support. We'll agree alternative plans for those that don't make it.

Get involved: You'll help us to develop shortlisted designs, considering modal filters, public space, tradeoffs, accessibility and safety.

Detailed design, trials and evaluation
Preferred options are developed in detail with community input. Designs are trialled using experimental traffic orders (ETOs).

Get involved: During an ETO the scheme can be monitored, evaluated and changed within a six-month consultation period. We'll also consult the public on the final scheme.
From Page 19 of the Consultation Summary Brochure: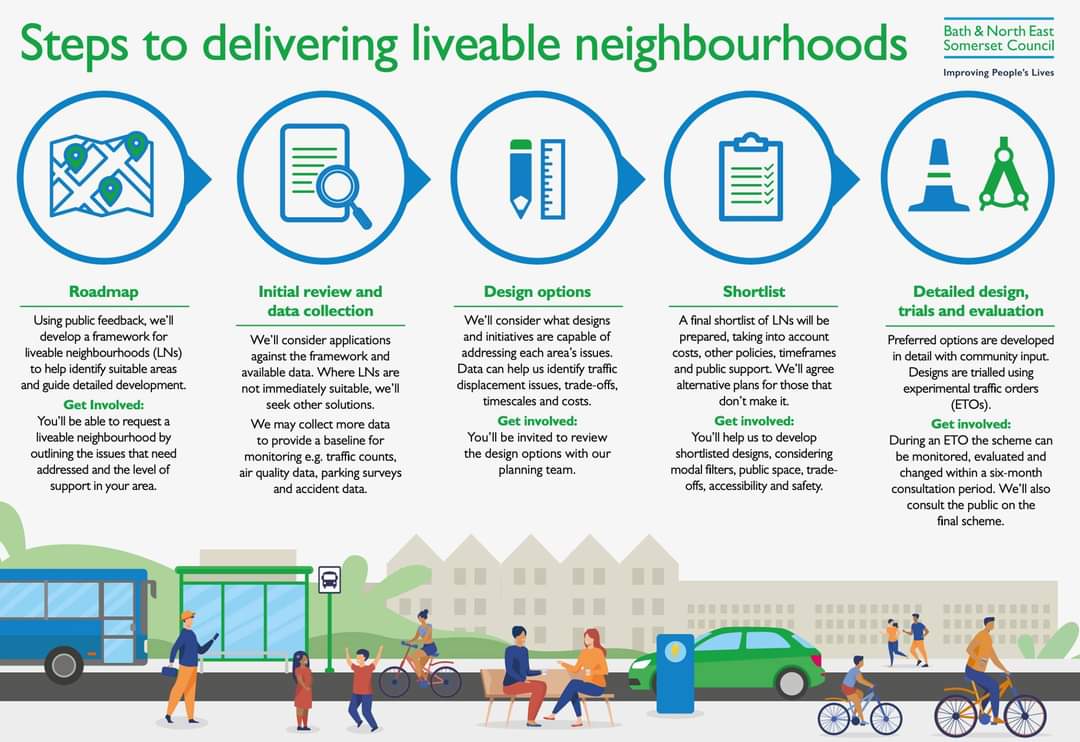 The only failing of Page 19 is that it should be much more explicit that a Liveable Neighbourhood is co-designed involving the community, local ward councillors, and council officers. It should also indicate when Equality Impact Assessments take place.
Who are "we" and "you"?
In each of the 5 stages I would really like to understand who "we" and who "you" is. This is my take on it.
Roadmap: You will work with your local ward councillors as a community to complete a Liveable Neighbourhood bid using the proforma.
Initial review and data collection: The bids will be evaluated against criteria and data.
Design options: The officers working with local councillors and the community will come up with a number of designs for the LN.
Shortlist: All LN proposals will then be evaluated and those that are strongest will be taken forward to trial. I am assuming an Equality Impact Assessment will be done at this point.
Detailed design, trials and evaluation: Trials will last 6 months during which the LN will be in constant review and will be tweaked when issues arise. Successful trials will result in a Traffic Regulation Order being used to make the changes permanent.
Main Road Residents
One of the issues that will raise its head is that an LN can increase traffic on main roads. If you take the consultation survey they address this with this question:
"13. How strongly do you agree with our approach that main roads and areas outside of liveable neighbourhoods should not see air pollution exceeding legal limits as a result of its development?"
These are roads that have been designed to handle large volumes of traffic unlike our residential roads and I think the council has got this right. The combination of Clean Air Zone, Low Traffic Neighbourhoods, Resident Parking Schemes, and EV Charging tackles the use of petrol/diesel vehicles head on while removing unnecessary car ingress from the city and towns. Putting the community at the heart of the decision making process is phenomenal.
Nothing happens without your input
Please fill in the survey. Read the documents or at least the brochure. Understand you are being consulted on what the *PROCESS* will be, not when you will get a Liveable Neighbourhood. I suspect we won't see our first Liveable Neighbourhood delivered before next year.
Thinking ahead
Start thinking about your area, maybe email your ward councillor and ask how you can become involved. Here's a map of Bath I made with a fully developed set of LTNs. I hope you find a lot wrong with it. I hope you take it into your community and make it your own.